Our Innovative Approach and Highlights
Change happens everywhere and in everything, it is imperative to embrace change in a dynamically changing world. At Infocast, our focus is to align change with on-going orchestrated innovations and solutions that meet the needs and desires of our clients. Infocast offers the latest in feature, functionality and technology on both real time financial information coverage and trading solutions.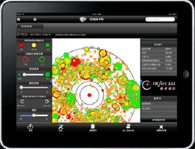 Innovative Mobile/Window application introduces the best practice of data visualization in the Hong Kong Financial Market. Easily sense the market pulse and spot your potential investment opportunities in matter of seconds.
Ultra Fast Trading Platform
Infocast newest trading system delivers advance improvements in speed, reliability and precision. Infocast cutting edge technology handles unexpected variables ensuring high performance levels and access to the best available prices to facilitate mission critical trades.